Pharmacists
For Hereditary Angioedema (HAE) Patients
Help Your Patients Be Prepared to Treat HAE Attacks
Fresenius Kabi contracts with a variety of Pharmacy Partners to provide access to Icatibant Injection.
Offer your patients a cost-effective, fully substitutable, and chemically equivalent* option in treating their acute attacks. The FDA-approved generic Icatibant Injection provides your patients with a cost-effective option in treating acute attacks of HAE. Icatibant Injection manufactured by Fresenius Kabi is fully substitutable and chemically equivalent to the brand product.
Remind your hereditary angioedema (HAE) patients that they should keep two on-demand HAE treatments with them at all times – in accordance with recommendations from the World Allergy Organization and European Academy of Allergy and Clinical Immunology.8
Remind your patients to replenish their Icatibant Injection after they have had an attack. Icatibant Injection may be ordered from your pharmaceutical wholesaler. It is also available at pharmacy retailers and requires a prescription.
WHOLESALE ITEM NUMBERS
Unit of Sale
Single Pack
Three Pack
NDC Number
63323-574-86
63323-574-93
Amerisource Bergen
1025-1073
1025-1074
Cardinal
5681887
5681895
McKesson
1578392
1578376
Morris & Dickson
919126
919167
Icatibant Injection is supplied as a 3 mL prefilled, single use syringe and is available in both single- and three-syringe packages.
Single-Syringe Package
Single 3 mL Prefilled Syringe and one 25G Luer lock needle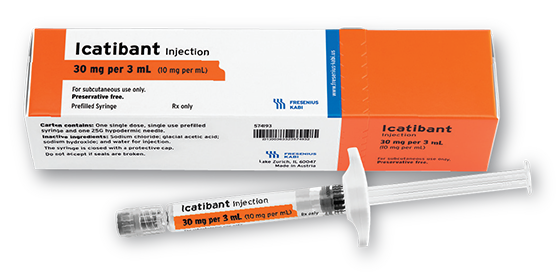 3-Syringe Package
Unit of Three: 3 mL Prefilled Syringe and one 25G Luer lock needle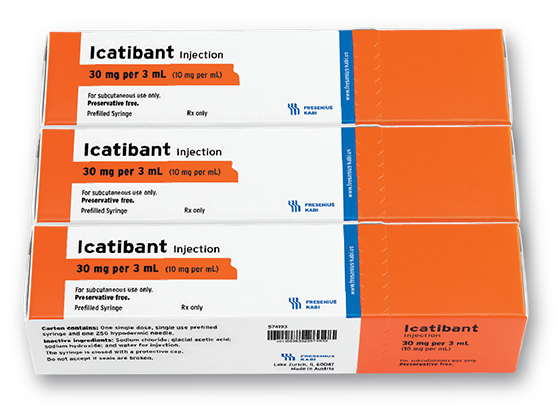 About Fresenius Kabi
Fresenius Kabi is a global healthcare company that specializes in lifesaving medicines and technologies for infusion, transfusion, clinical nutrition, and specialty pharmaceuticals. Our products and programs are designed to help care for critically and chronically ill patients. For more than a century, we've delivered innovative therapies that are safe, efficient, and affordable.
Recognized for our proven track record of quality, reliability, and consistency, we produce our medications in 90 state-of-the-art plants around the world. From essential injectable medicines to advanced systems used to maintain and protect the nation's blood supply, our products are used to help care for critically and chronically ill patients. We're committed to making sure that patients have accurate and transparent information as new medication options come to market.
---
References
[8] Maurer M, Magerl M, Betschel S, et al. The international WAO/EAACI guideline for the management of hereditary angioedema-The 2021 revision and update. Allergy. 2022;77(7):1961-1990.
*Fresenius Kabi's Icatibant Injection is fully substitutable and chemically equivalent to Firazyr®